On January 31, 2023, U.S. Water's Senior Technical Director Frank DeOrio received a U.S. patent for his work developing an artificial intelligence (AI) technology that can identify microscopic components in wastewater mixed liquor. By identifying these components, the technology can determine multiple features of the biomass predicting an indication of its health and deficiencies.
A revolutionary idea
The technology, developed along with co-inventors from Ramboll, is being marketed under the name opseyes. Opseyes is a revolutionary technology because it can perform the evaluation automatically and generate a detailed report within seconds requiring minimal effort and user training in microscopy.
To generate a report, the user collects a sample of their mixed liquor and places it on a slide and then captures four photos using a microscope camera or a smartphone with a camera bracket attached. The photos are then uploaded to opseyes where they are analyzed by its AI driven engine. A detailed diagnostic report is generated within 10 minutes, including recommendations and next steps for plant optimization and upset avoidance.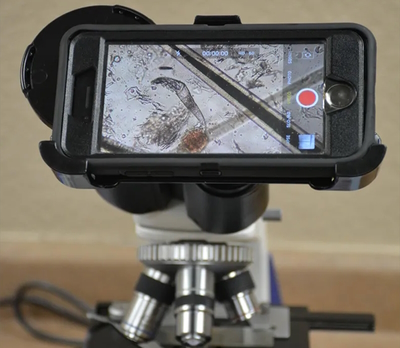 Significant Time and Cost Savings
The current workflow for this type of analysis involves capturing physical samples, packaging them for safe transport and mailing them to a diagnostic analysis provider.  Not only is the process time consuming, but repeating the process is sometimes necessary as samples can degrade or be lost during shipping.  In contrast, the technology covered in the patent eliminates these costs and produces indispensable results at any time of day as the AI never sleeps.

For more information, or to give opseyes a free trial, visit: https://opseyes.com/
For more information on the U.S. Patent (No. 11,565,946 B2), visit the following link: https://image-ppubs.uspto.gov/dirsearch-public/print/downloadPdf/11565946